Curepipe
The city is situated on the central plateau at an altitude of 549 meters. Curepipe is a town with approx. 90,000 of habitants. It is the wettest part in Mauritius and receives 3m of rain annually
During the malaria epidemics of the 1860's many families left the warm and unhealthy area of Port Louis and the coastal area for the cooler and healthier climate of Curepipe. This is how it became a residential as well as a commercial town.
It is also an excellent place for shopping for items like handmade ship models, duty free jewelry, woolen garments etc….
You will have plenty ideas for a souvenir of Mauritius:  artisanal handmade souvenir bagsand made model of ships, adamas diamond factory.
The George V Stadium
The construction of the George V Stadium started in 1954 and the stadium was ready in 1955. In 2003, the old stadium was demolished and the new stadium was built the same year. It was used in the Indian Ocean Island Games in 2003 and has been the national team home ground ever since. It has a capacity of 6200 seats.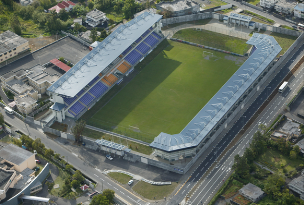 Trou aux Cerfs

Trou aux Cerfs is one of the biggest craters of an extinct volcano with a depth of 85m (279ft) and over 200m (656ft) of with. From the top of the crater which is approx. 610 m above sea level, one can enjoy a panoramic view of the ranges of mountains from the western to the eastern part of the island. It is possible to descend into the crater.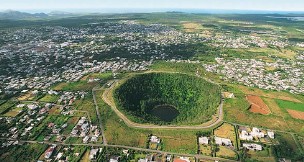 Grand Bassin

Grand Bassin is a natural lake resting in the crater of an extinct volcano. It is also a sacred place of pilgrimage for thousands of Hindu who come to pray to the deity Shiva during Maha Shivaratee(Hindu festival-the great night of God Shiva at the end of February or beginning of March). 

Plaine Champagne

In this place we still have our primary forest and indigenous plants namely "Bois de Natte", "Ebony", "Takamaka" etc. It was the hunting place for the French and whenever they used to catch some big animals, they organized a party to celebrate the victory during which champagne was being served. This is how they became known as the Plaine Champagne.